Showers and Tubs
Looking to replace your shower or tub? Trust the Lakeville, MN experts at Aqueduct Plumbing Co. to get the job done right the first time. Call 952-469-1284 to work with the top Lakeville, MN shower and tub installation team.
When is it time to replace your shower or tub?
Has your shower or tub been damaged? Is it stained with mold or mildew? These can decrease the value of your home if you are planning on selling it. Water leaks may also develop if a shower or tub is in poor condition, so replacing it may be necessary.
Aside from functional concerns, you may want to replace your shower or tub if you are remodeling your bathroom and want to upgrade to a more modern look. You may also want to install extra features, such as additional shower heads or a bench seat. These can add functionality to the space, while making showering and bathing a truly relaxing experience.
What can we do to help you?
The licensed, bonded and insured technicians will meet with you to discuss the goals for your Lakeville, MN home or business. You can select the features you would like to install, or we can help provide them for you. We provide a customized estimate with competitive, upfront rates.
Improve the look of your bathroom with a new shower or tub. You let us know your preference, and Aqueduct Plumbing Co. will take care of the installation. We guarantee you will love the final result. Call us in Lakeville, MN today at 952-469-1284 to get started.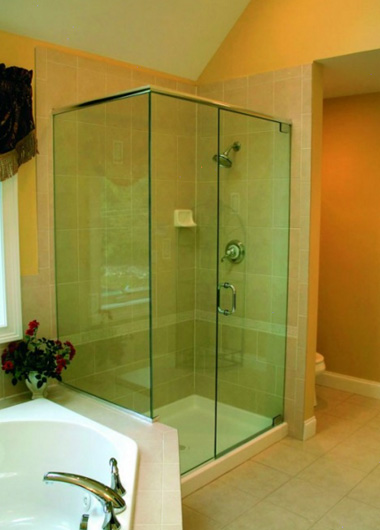 Shower Installation Lakeville, MN
Aqueduct Plumbing Co. Provides Shower Installation Services in Lakeville, MN
The second best investment to remodeling your Lakeville, MN home besides your kitchen is the remodeling of your bathroom. A shower should be one of the first items you should consider replacing. A shower insert that is constructed from fiberglass has a tendency with age to crack at the stress points located in the sharp corners ridges or bottoms. Cracks from these types of showers can often become budget busters for the Lakeville, MN homeowner. Call our experienced plumbers at Aqueduct Plumbing Co. for a free shower installation estimate.
Shower installation is a major project that requires a professional and the work starts with finding the right shower to fit the bathroom and to meet your needs. The actual physical installation demands working with complex plumbing—more complex than most people realize—to ensure that the shower works right and will not create water leaks from poor connections or waste water unnecessarily.
In other words, shower installation is not a DIY project, or anything to entrust to an amateur enthusiast. Take the easier, quicker, and safer path: call Aqueduct Plumbing Co. and outline for us what you are looking for in a shower installation, and we will take it from there.
Why Use Us?
Utilizing the services of a non- professional company can often result in very costly future repairs and damages. The cost in savings just does not outweigh the reality that having a professional company do the installation and tub and shower retrofitting. A professional can identify and utilize the most modern available parts on the market to make your tub and shower last for years.
Contact us at 952-469-1284 and start on the bathroom remodel of your dreams.
Bathtub Installation Lakeville, MN
Aqueduct Plumbing Co. Provides Bathtub Installation Services in Lakeville, MN
A bathtub is more than a fixture in your Lakeville, MN home to maintain personal hygiene. A bathtub can also be a source of great relaxation and stress relief, like a luxury item. To receive the most use out of a bathtub, both as a necessity and as a luxury, you must make sure that it has excellent plumbing that works. If you are planning to install a new bathtub or repair your current one, make sure that you contact plumbing professionals with experience in bathroom plumbing. You will be rewarded with a bathtub that provides you with many years of comfort and few hassles.
For the bathtub plumbing services you require—from new installation to minor repair jobs—the Lakeville, MN team at Aqueduct Plumbing Co. is one of your best options. Contact us for a free estimate at 952-460-1284.
Contact Us for Your Bathtub Plumbing Services in Lakeville, MN
Whenever you notice anything out of the ordinary with a bathtub, you should call for trained plumbers. The possibilities for damage from a leaking bathtub or one with inferior sealing are high, and it will also lead to a massive and expensive waste of water. All it takes is one call to Aqueduct Plumbing Co. to receive the skilled work that will alleviate whatever problems you have. We are also happy to help you upgrade your current bathtub with a new model that will enhance the bathroom and your daily life. Contact us in Lakeville, MN today for any bathtub plumbing service you require.